ACM Solutions
Regular price
Sale price
$28.80 USD
Unit price
per
Sale
Sold out
** Click Here For Quick Ordering Help **
Check Shipping Lead Times
ACMS CRAFT FRAMES are designed to frame just about anything.

We fabricate each frame on a per order basis and are able to customize them to suit your needs.  Understanding how to order them is very important so please take the time to read through the information below.

Should you have any questions about ordering the correct frame...please send a message via the "Chat with us" button below.  We will answer as quickly as we can.
Share
View full details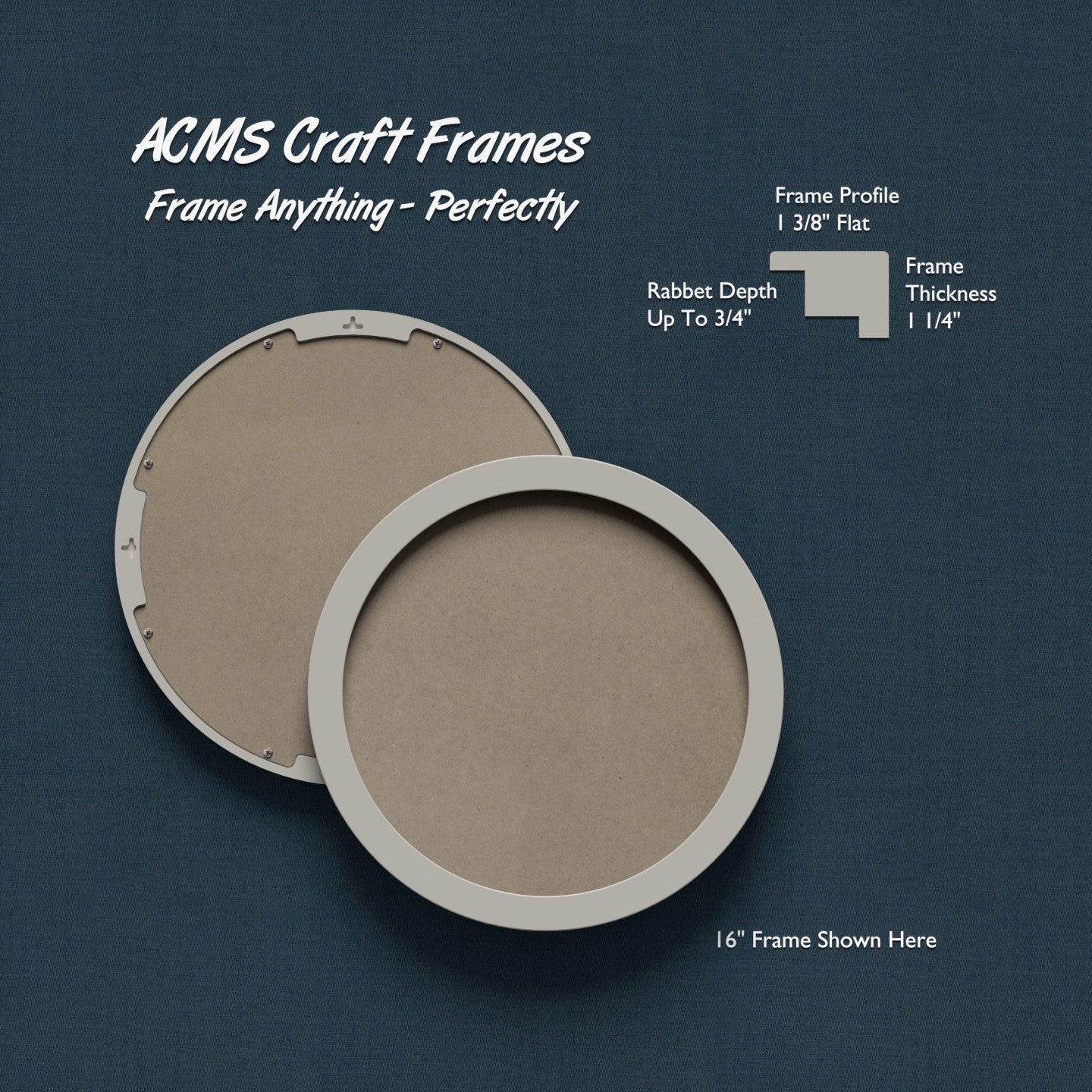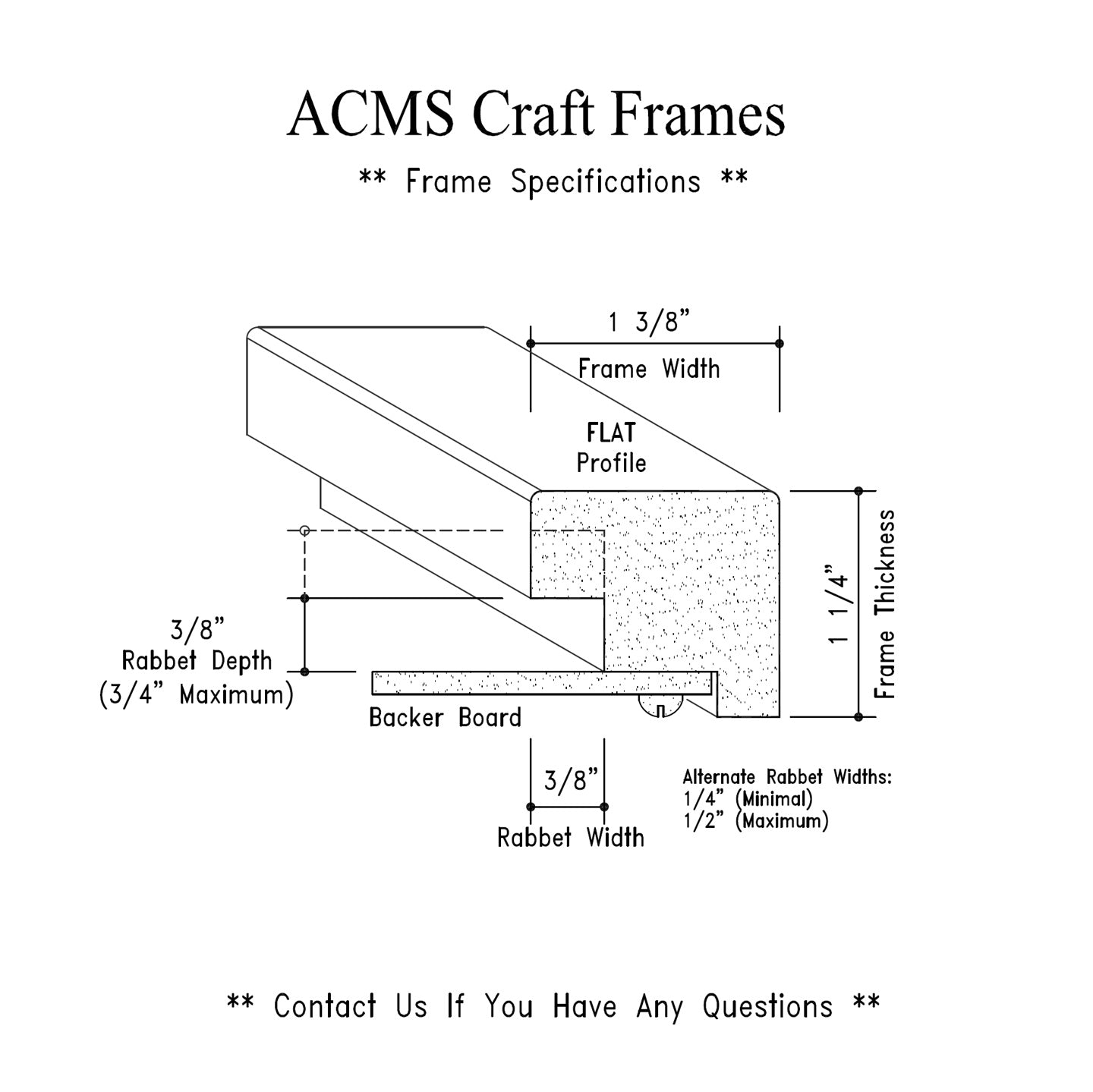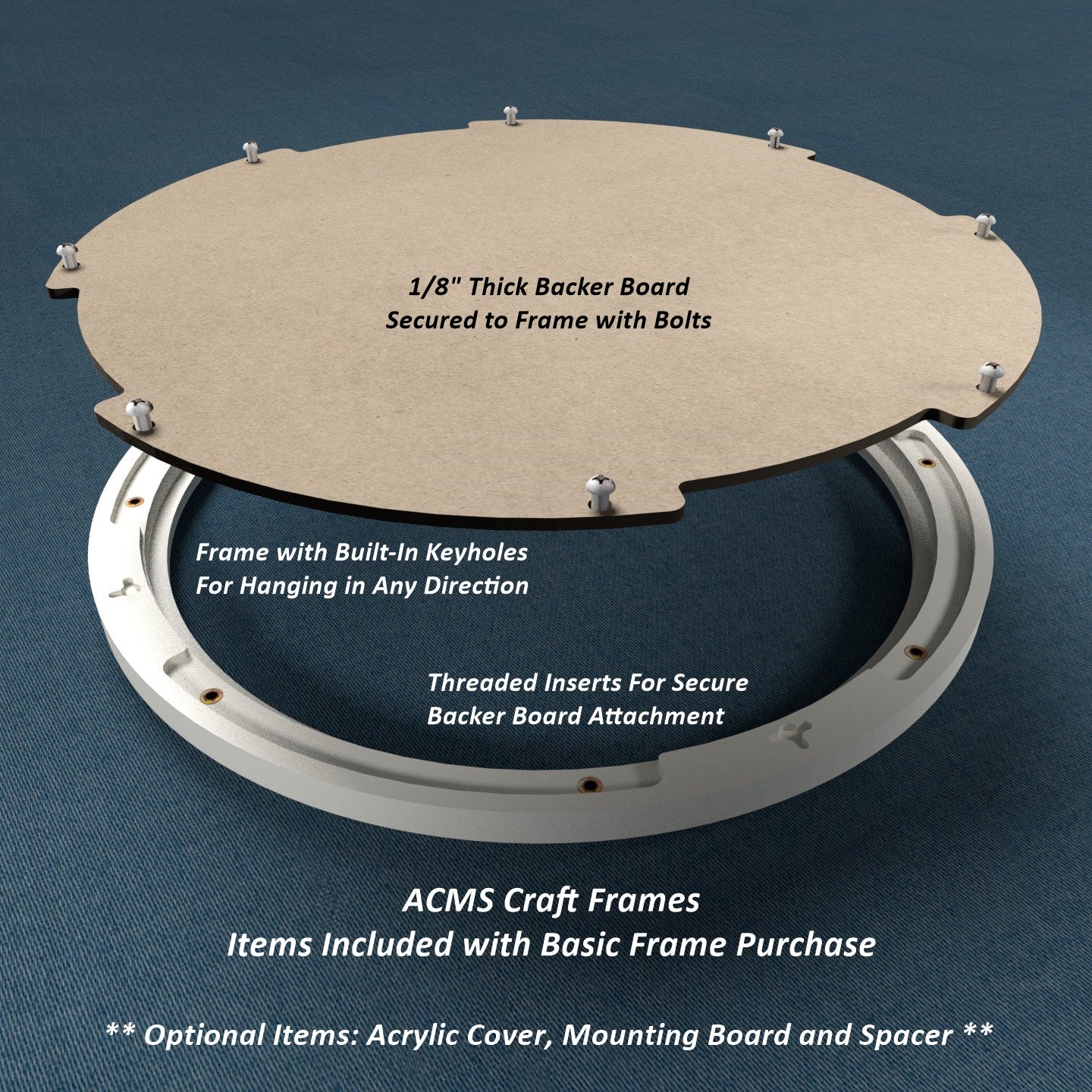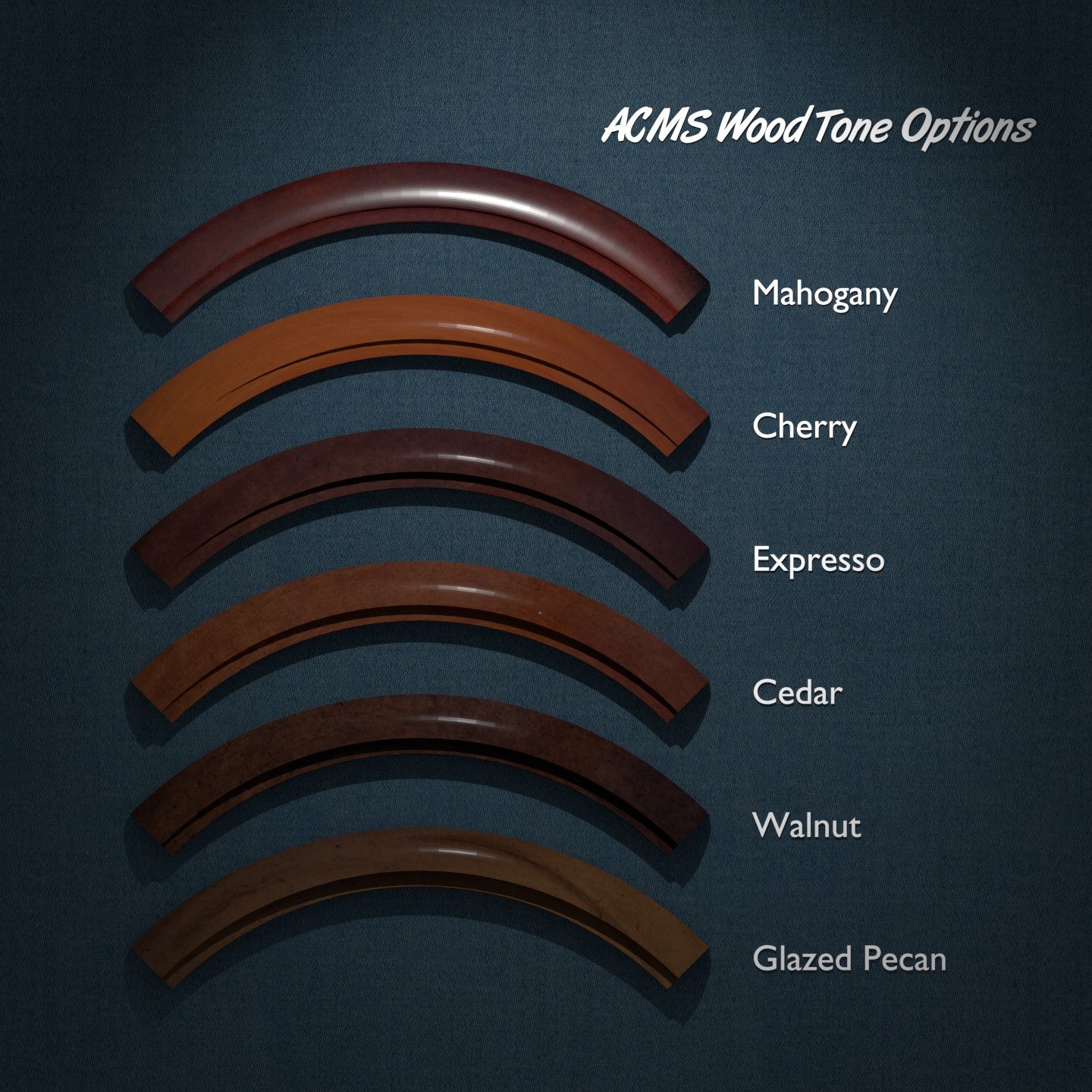 Round Craft Frame - Quick Help Ordering
This quick help is not a replacement for reading the detailed description of this product...so please scroll down and do that.
Frame Size Selection.....
After calculating the frame size you need....there is a good chance it will not be listed in the drop down selection box.
What you do is simply select the next size UP from the frame size you need.
Then in the Frame Size Adjustment text box simply enter the Frame Size you need.
Example:
If you need a Frame Size of 21.5".....you would select the 24" size (which is the next size UP from 21.5")
Include Mounting Board.....
This is mostly for those that want to frame a print or loose canvas.  Prior to framing you'll want to mount it on a board.  Our mounting boards are 1/4" thick and perfectly sized for your frame.
If you include a mounting board with your frame order, make sure you make note of the thickness for determining your Rabbet Depth.
Include Clear Acrylic Cover.....
No explanation needed here....you either want an acrylic cover or you don't.  Our acrylic is 3mm (about 1/8") thick and clear.  Should you need a specialty acrylic cover please contact us for a custom quote.
If you include an acrylic cover with your frame order, make sure you make note of the thickness for determining your Rabbet Depth.
Frame Finish.....
Finishing is included with the purchase of your frame.  We have standard colors for you to choose from (refer to color chart in listing photos) or you can let us know a custom color to paint.  You do this by entering a valid VALSPAR color code/name.
If you want a Wood Tone Finish on your frame (refer to wood tone chart in listing photos), just enter in which wood tone finish you want.
Select Rabbet Width.....
In most cases, the default 3/8" works well for your artwork. 
Sometimes there is a need for a smaller rabbet width though, mostly to reduce the hidden portion of the art perimeter.  There may be details close to the edge that you want to show or maybe there is a signature too close tot he edge.
Sometimes there is a need for larger rabbet widths.  This is mainly needed for artwork with a border frame (like stained glass) or a heavy piece you really want seated more for stability.
Select Rabbet Depth.....
Every ACMS Craft Frame has a default Rabbet Depth of 3/8".  This is the depth needed for framing printed artwork using mounting board and clear acrylic cover.  If that is what you are framing....go with the 3/8" default depth.
Otherwise select the "Rabbet Depth Adjustment Required" option and read on...
The Rabbet Depth is the most complicated part of our Craft Frames.  There are so many options to display and secure your artwork, and we are one of the only frame makers (maybe THE only one) that easily allows this adjustment to be made as part of your basic order.
The "Components To Complete Your Artwork" section (scroll down) explains this adjustment well....but please contact us should you need help on this.  Once you let us know what it is you are framing we will be able to guide you easily.
Each frame thickness has a different maximum rabbet depth.  Knowing the total thickness of what you are wanting to frame (your artwork, acrylic cover, spacer etc) will let you know your Rabbet Depth requirements.  From that point you can select which frame you want (thickness and profile.
Look at the default Rabbet Depth (Spec Drawing in Listing Pics)....if this works for you great.  If you need it to be adjusted (smaller)....enter the depth you need and we will adjust the frame.
Spacer Requirements.....
Spacers are used in many different ways.  The most common way to use them is to place them between the acrylic and your artwork so your artwork is not against the acrylic cover.
This thickness of the spacer is determined by you, but if you are a new client you will most likely need to contact us to learn how it all works.
There is no charge for spacers, and we finish them the same as the frame.
Your Artwork Info.....
This is not a requirement but we would love to know what it is you are framing.  We may look at your order and realize that you did not order correctly or mis-calculated the frame size.
Most of our products are custom made for you per your specs, which makes them non-returnable.  Making sure your frame is exactly what you need is very important to us and we are always here to help you with the ordering.
Chat with us.....
If you have any questions regarding this product please don't hesitate to contact us.  The best way is via the "Chat with us" button lower right of screen.
Craft Frames - Shipping Lead Time
This product has a lead time (order date to ship date) of 7-10 business days.  We do our best to expedite all orders but never at the expense of quality.
The type and quantity of items in your order as well as the finishes can affect the lead time....we will usually send you an update a few days before we plan to ship just to give you a heads up.
Always feel free to contact us for an update on your order.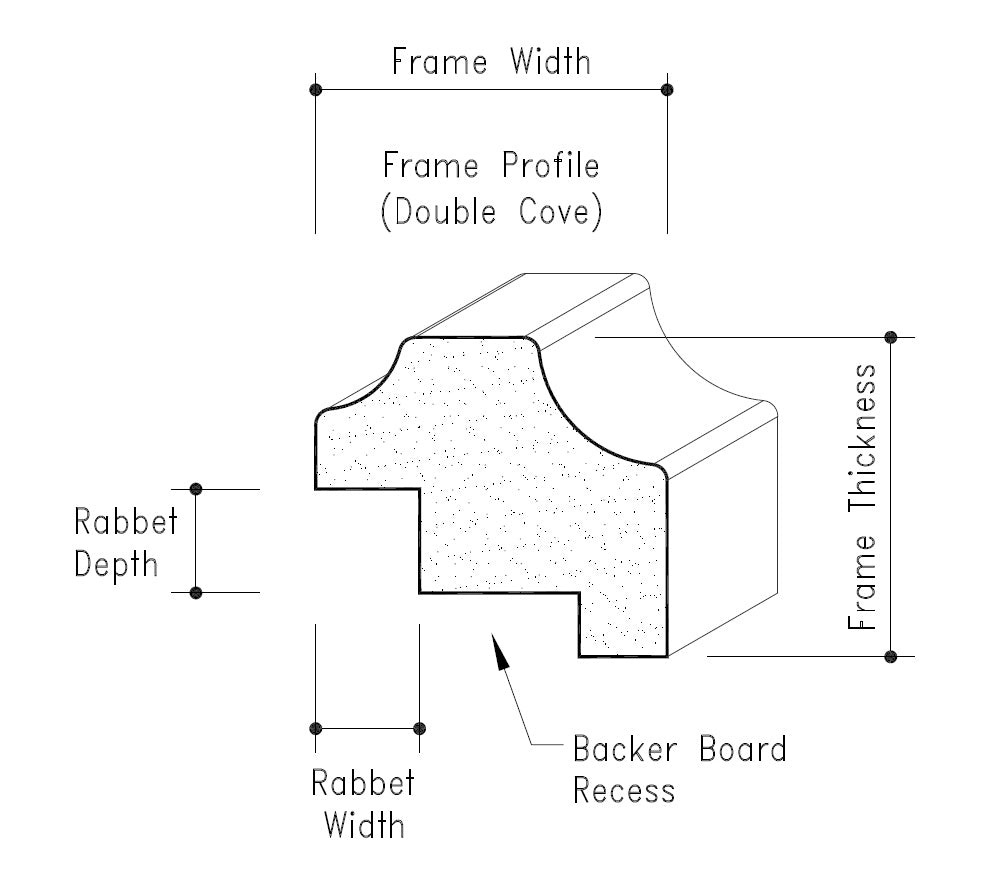 Frame Terminology
Understanding our terminology when describing your frame is very important and keeps us in sync so no mistakes are made.
The diagram explains it well but pay close attention to the Rabbet Depth and the Rabbet Width. Those two areas are the most important.
Read on....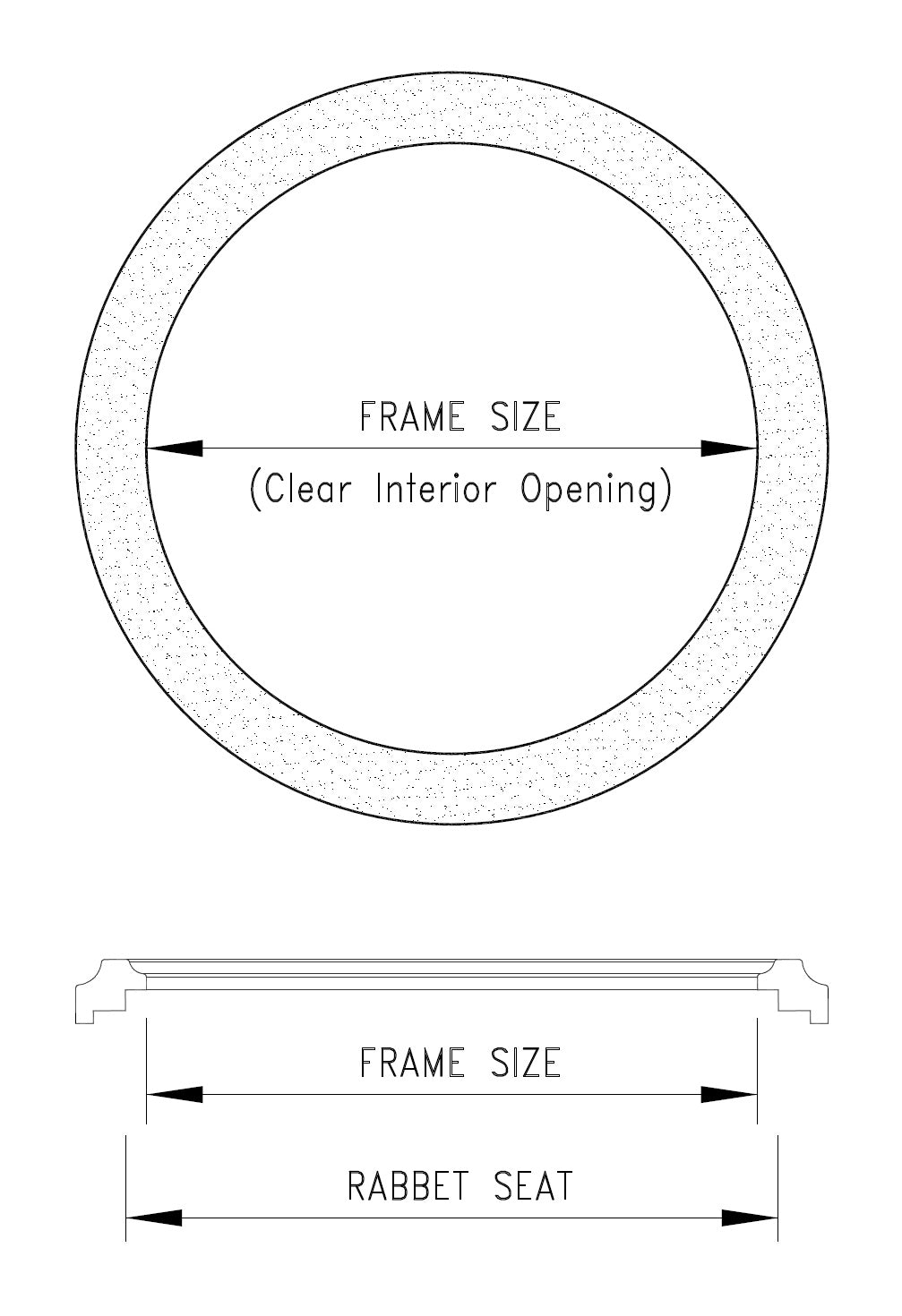 Understanding Frame Size
Your artwork ultimately dictates the size of your frame.
ACMS Craft Frame sizes are always defined as the Clear Interior Opening of the frame. This is not (in most cases) the size of your artwork.
Frame widths, thicknesses, profiles and finishes vary quite a bit, but they all share the same definition when it comes to frame size.
Properly determining the frame size you need to order requires you to take the Rabbet Seat into account. The Rabbet Width is what creates the overall Rabbet Seat. Your artwork (or mounting board) is placed in the Rabbet Seat, securing it within the frame.
Because the Rabbet Width can vary, the Frame Size you order needs to be properly calculated.
Read on....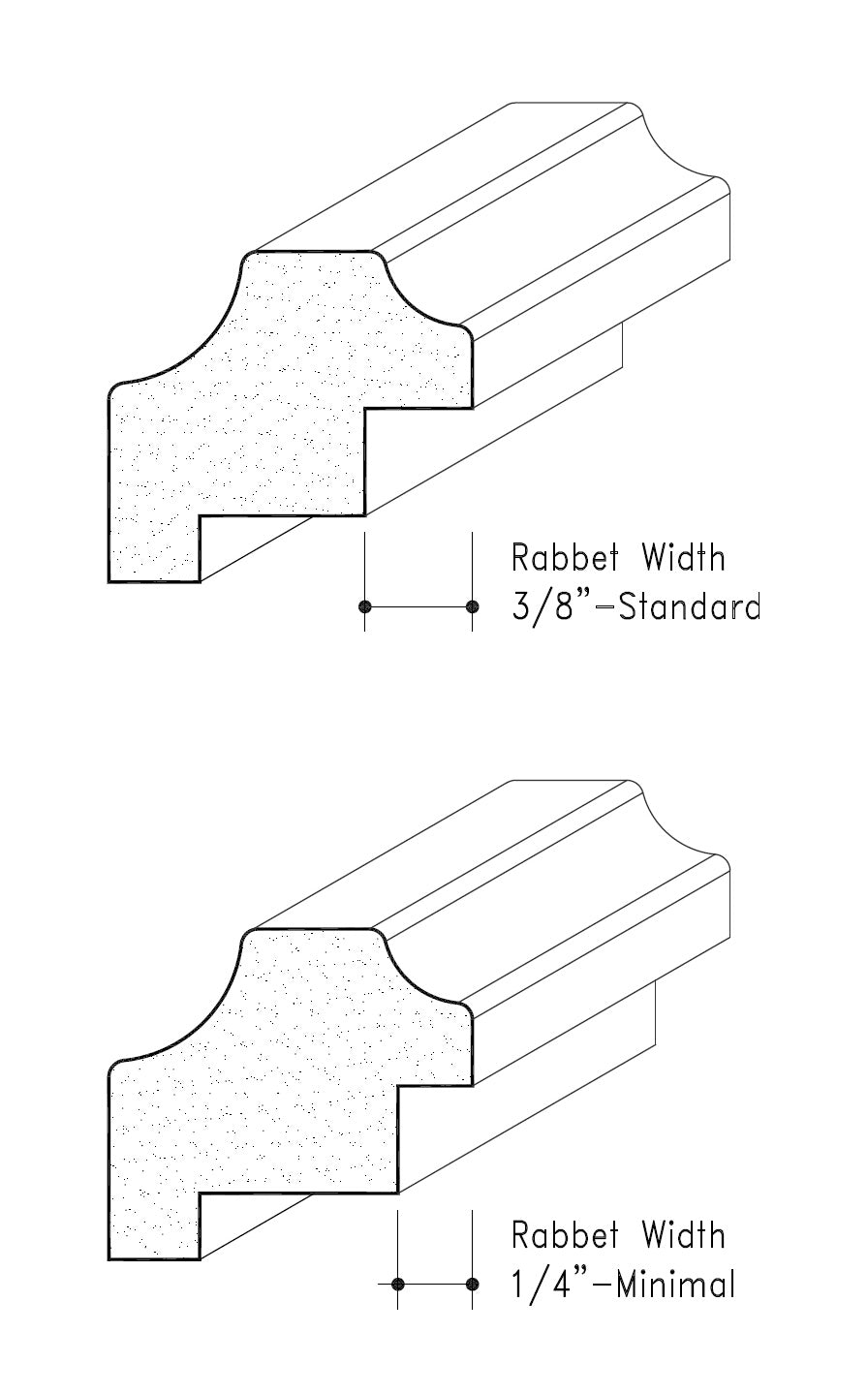 Understanding Rabbet Width
The Rabbet Width (along with your artwork size) is what determines the size frame you order.
ACMS Craft Frames have a default Rabbet Width of 3/8" (we add 1/32" for wiggle room by the way). This width works for most artwork.
For some artwork, however, you may need a smaller (or larger) rabbet width. Our Craft Frames allow you to make this adjustment.
So if your artwork is 16" round and you use the default 3/8" rabbet width, that would make your Frame Size 11 1/4" (which is your artwork size minus the 3/8" rabbet width at each side of the frame).
The same artwork size with a 1/4" Rabbet Width would now give you a frame size of 11 1/2" (your artwork size minus a 1/4" at each side of the frame.
This is the reason why our Craft Frames are sized the way they are.
Now the Rabbet Depth....Read on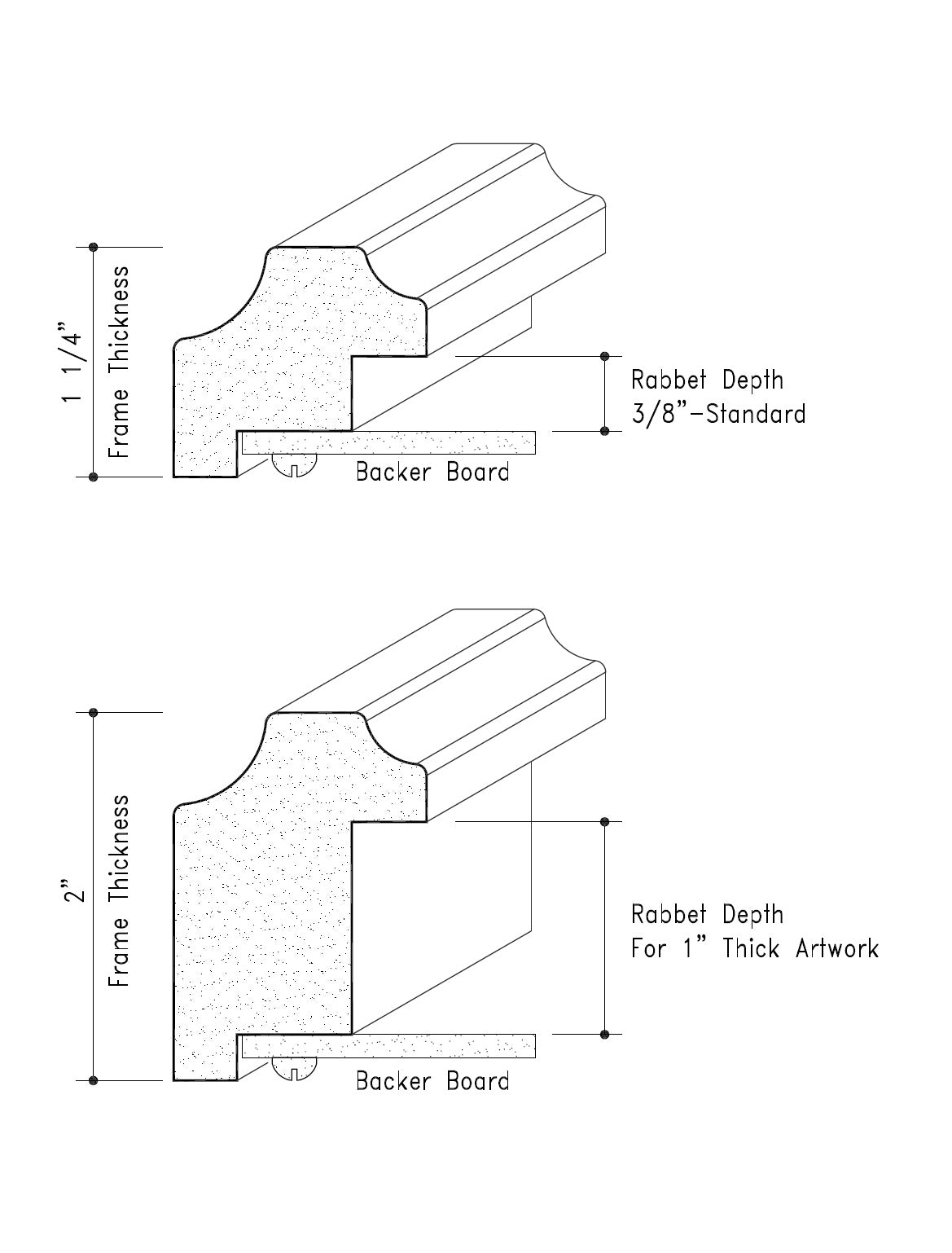 Understanding Rabbet Depth
The Rabbet Depth is the space between the Rabbet Seat (frame lip is another term for it) and the Backer Board (which is secured to the frame with bolts).
We consider this depth to be the most important part of creating your frame....and the most customizable.
In addition to the thickness of your artwork, you need to consider the thickness of items like acrylic covers, mounting boards, mat material and even spacers (for shadowbox type frames).
So when you think of the Rabbet Depth...you really need to think about how much space you need for every component that is placed within the Rabbet Depth.
Now we'll explore some of those options....
Read on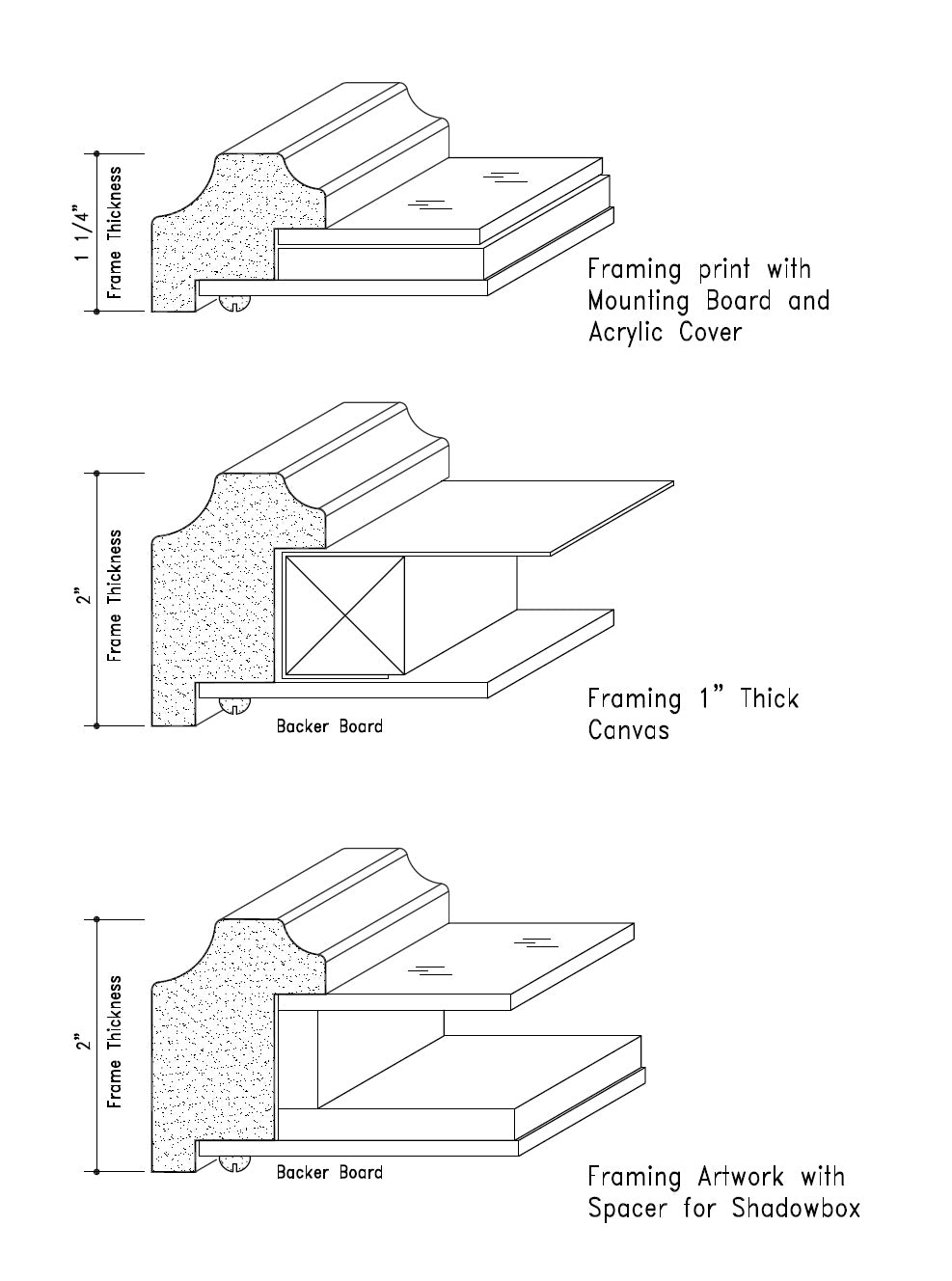 Components To Complete Your Artwork
You may have artwork that you simply want to frame...a single piece with a size and thickness. That's an easy order.
In many cases, though, you will need some additional components.
You may want to frame a print, which will need to be mounted...so you need a mounting board. You may want to place your artwork behind a clear acrylic cover...that's another component. You may also need a spacer between the acrylic cover and your artwork (so it doesn't get smashed)....and that is yet another component.
When you assemble (or stack) all components together, your Rabbet Depth requirements will be determined.
Components like a mounting board and clear acrylic cover are available as product options.
Other components like spacers are available by request.